About Us....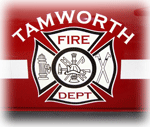 The Tamworth Fire Department covers 64 square miles of north-eastern New Hampshire . Fire protection is provided to the 2500 year round residents of Tamworth and countless seasonal residents. Although rural in character, Tamworth has six hotels, a 300 seat playhouse, and nursing home, two power plants and a fireworks retailer all requiring higher than average services from the Fire Department. In addition, the Tamworth Fire Department works with New Hampshire Fish and Game to provide search and rescue services in the Sandwich Mountain Range.
Services are provided by a full-time Fire Chief and a staff of 33 volunteers running out of 4 fire stations. The Department has four engines, a hose-reel truck, three forestry vehicles, and a staff car. Tamworth Fire is an active member of the Ossipee Valley Mutual Aid Association.
---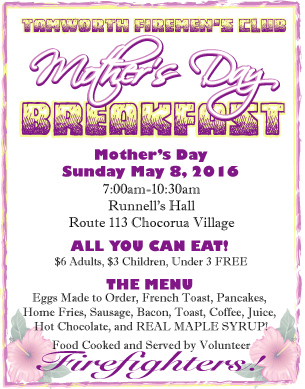 Tamworth Firemen's Club
presents
Mother's Day Breakfast!
May 8th, 2016
7:00 AM - 10:30 AM
Runnell's Hall - Chocorua Village
---
Fire Permits Required!
The State of New Hampshire requires all persons to obtain a fire permit before starting ANY outside fire unless the ground is covered with snow for an area at least 100 feet from where the fire will be. This must be done prior to starting the fire rain or shine. For more infomation...click here
Fire Permits Online
Category I and Category II permits can be purchased either as a daily permit or a seasonal permit. You can apply for either a daily (CAT1 or CAT2) or seasonal (SCAT1 or SCAT2) by selecting the appropriate permit category type from the drop-down list during the purchasing process. Seasonal permits are valid through December 31 of the current year, following all the pertinent rules for the selected category burn type.
Permits can be purchased by visiting NH Division of Forest and Lands.